Waterfront Lake Tahoe Homes & Condos
Brockway Springs is most famous for its namesake: the hot springs that still feed parts of the community as well as the community swimming pool -- the only outdoor year-round heated pool on Lake Tahoe's North Shore. (click here to read more)
Brockway Springs
Water Straight from the Hot Springs
Homes at Brockway Springs offer privacy, as they're at the end of a gated road, past the condo and town home side of the community. Many offer terrific views of Lake Tahoe, and each home is allowed to dedicate one faucet that's fed from the hot spring itself (most owners choose a bathtub).
Single-family homes rarely come on the market at Brockway Springs. Selling prices in recent years have ranged from $3 million to as much as $6 million for this 3-bedroom contemporary with nice views of Lake Tahoe:
Condos & Townhomes for Sale at Brockway Springs
Brockway Springs also has several Condo & Town Home options with onsite management (a big plus if you choose to cash flow your vacation home as a rental when you're not using it). The Tower suites play more like a hotel, with al elevator to all floors, offering panoramic views of Lake Tahoe from most of the units. Townhomes are also built around a wide grassy lawn area, offering cozy front porches or secluded spots to park a lawn chair for the day.
Pier and Buoy Field at Brockway Springs
While the shoreline at Brockway Springs is rocky, the community does have a large pier with a buoy field, which makes it an excellent launching off pad for exploring Lake Tahoe by boat.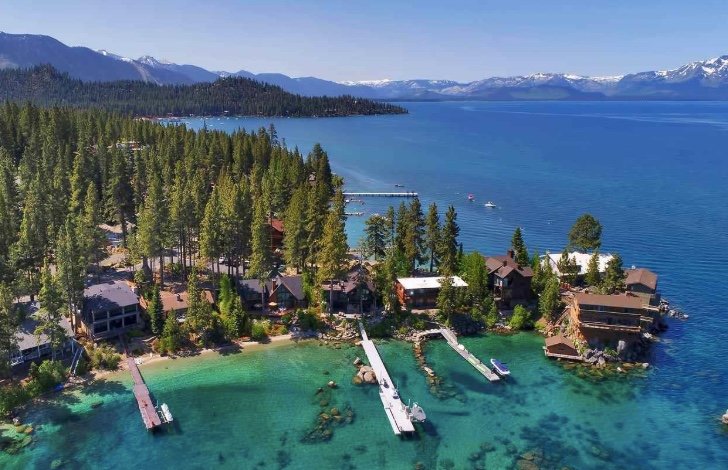 Browse Lake Tahoe Waterfront Condos